The emerging necessity for brand identity has increased the demand for businesses to engage in effective communication. Thus, BrandCurb is diligently creating platforms to empower brands and increase growth.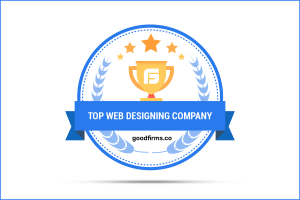 About BrandCurb
BrandCurb is a communication platform working persistently to deliver brand engagement solutions. The company's mission is to offer clients what they need. Positioned in Canada with an office in Japan, the firm facilitates online presence for its clients and assists them in building brands. Brands that flourish in a sustainable manner and get remembered by their targeted audience.
The firm is a house of professionals working closely with their customer's goals and accomplishments. The efficient and effective blend of services, such as web design, social media marketing, and search engine optimization, offered by them helps their clients to reach SMART heights.
The Research Methodology of GoodFirms
GoodFirms is an online B2B portal that lists companies so that a seeker can find a reliable partner. Finding an appropriate company gets tricky when there are a lot of options to choose from. The firm listed on the website gets evaluated on strict principles like Quality, Reliability, and Ability. The firms are then ranked based on to aid seekers in decision making
BrandCurb had to undergo the same process before getting listed on the GoodFirms list. The firm has been proven to offer bewildering solutions with a highly creative process. Here are the details of the company stated below:
Producing Captivating Web Designs
Communication between a brand and consumer has to be competent enough to instill the business's name and objective in the consumer's mind. This process is essential and requires a unique company with a seasoned team to work on. Solving business issues by creating a website, the team at BrandCurb creates astonishing designs to help clients increase engagement.
The team is knowledgeable about using the latest technologies and methodologies that keep pace with the changing environment. The team focuses on the best content and layout while building a website design, thus, creating a brand value. The clients have been happy and satisfied with the solutions offered by the firm's professional team. Working with highly tailored needs of the client, and being a one-stop-shop hub for digital communication, this firm has given an exponential rise in their client's business. Hence, the company is ranked as the top web designing company in Japan at GoodFirms.
Helping Brands to Boost Business via Social Media
Social media is becoming the guardian angel of brands today. Whether to increase brand awareness or to help them improve engagement, social media marketing strategies are attracting eyeballs. The companies today know how important it is to integrate social media marketing. Thus, the requirement of BrandCurb comes to existence. The firm, with its well-learned team, keeps its client's business moving forward efficiently with top-notch social media strategies.
They are helping clients to boost their business through effective campaigns. The firm enhances the hard-earned resources of their client and takes care of them exhaustively. The fervent team improves brand awareness and that too cost-effectively. Having experience in several social media platforms, and each unique demand for branding, such as Facebook, Twitter, Instagram, LinkedIn – the firm is well versed with today's vernacular of operating a business. Running a social media campaign is no big deal, but making the correct strategy is where the secret lies. Taking worries out of the picture and genuinely helping clients has given the firm a place as top social media marketing companies in Canada at GoodFirms.
Absolute Managed SEO Services
Every service offered at BrandCurb is processed in a simplified manner to promote a stress-free solution. And the same is with SEO (search engine optimization) – a vital, but often stressed, practice for most website owners to increase site traffic. The professional team of the company provides all-inclusive SEO services. And as the firm believes in transparency, the clients can rest assured.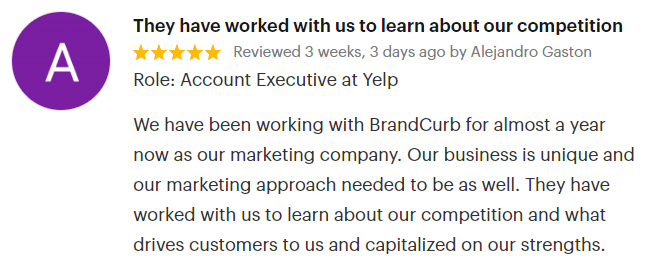 Alejandro Gaston, Yelp Account Executive, commended BrandCurb for their effort and dedication giving them a 5-star rating.
The company understands that the top ranking in search engine result pages (SERP) is pivotal to bringing visitors to the website. The firm offers hassle-free services, and the SEO professionals are knowledgeable to understand the changing Google Algorithm. Not to stress the clients, the firm provides services at a very reasonable cost that outrank clients from their competitors. The firm can be placed as the best SEO companies & services at GoodFirms owing to its robust team.
About GoodFirms
Washington, D.C. based GoodFirms is a maverick B2B Research and Reviews Company that helps in finding Web Design, Social Media Marketing, and SEO firms rendering the best services to its customers. GoodFirms' extensive research process ranks the companies, boosts their online reputation, and helps service seekers pick the right technology partner that meets their business needs.
About the Author
Anna Stark is presently working as a Content Writer with GoodFirms – Washington D.C. based B2B Research Company, which bridges the gap between service seekers and service providers. Anna's current role lingers to shape every company's performance and key attributes into words. She firmly believes in the magic of words and equips new strategies that work, always in with ideas, something new to carve, and something original to decorate the firm's identity.